Convert Live Music into a Perfect Score
Just download a tune and save it into a WAV, MP3 or other supported file, load it into Chord Pickout, sit back and relax. Chord Pickout uses all the power of artificial intelligence to pick out the chords for you, transcribing the music and producing a printable and editable score. All that is completely automatic.
Designed for You
Chord Pickout does not require you to have perfect pitch. If you want to play popular songs, you can get the chords without a hassle. With Chord Pickout, you can get perfect scores every time with little knowledge of music or notations.
Built-in Chord and Lyrics Editor
Chord Pickout comes with a built-in editor allowing you to add or edit chords and lyrics any time. You can also print the score complete with lyrics for off-line use.
Play Popular Songs on Guitar, Piano, and Other Instruments
Chord Pickout can produce chords playable on a guitar, piano, and a variety of other musical instruments. Guitar players can get fingering added to the scores during the recognition. No need to wait for official scores - just run Chord Pickout and let it pick out the chords for you!
Supports MP3, WMA, OGG, AAC, M4A, WAV & CD Audio formats
Automatically picks out chords and produces a printable score
Easy to use for musicians and ordinary folks
Comes with built-in chord and lyrics editor
Prints scores and lyrics
Supports guitar fingering
Competitively priced and instantly delivered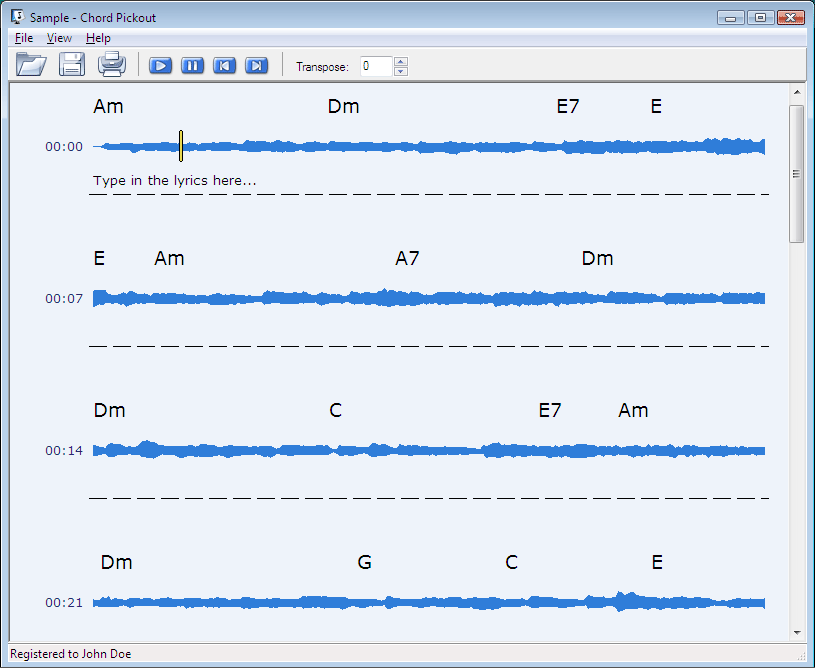 What Our Users Say
"Personal congratulations to your company for a great program. I've seen a few guitar related programs come across my desktop, but I really like yours. I look very forward to any other"
"If you are not blessed with perfect pitch, picking out the chords being used by listening to a band can be a long and arduous task. Chord Pickout is a very clever tool that will reduce your chord identification chore to a matter of minutes."
"Before I came across this - I've been looking for something like this for quite some time. It's a very cool program that you should download the demo just to see it work."